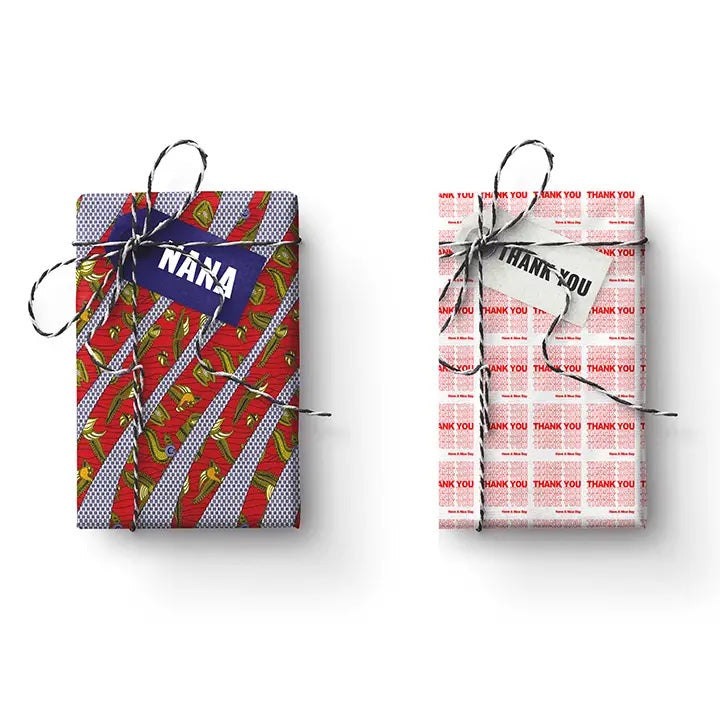 Nana-Thank You Gift Wrap Paper
Regular price
$15.00
/
https://demitasseny.com/policies/shipping-policy
---
---
Nana is a dutch wax cloth inspired design. Nana features the trifecta color combination - red, white, and blue punctured by bold yellow African paisleys to create a regal sophisticated vibe. The nana design represents the clash and cooling combination of two cultures. Nana attempts to blur the lines between cultural influences in favor of a fresh perspective. Nana can fluidly appear in the Makola market of Accra or in a shelter magazine for preppy decor. 

Want to give a beautifully wrapped gift without contributing to deforestation? The solution is stone paper, no trees involved (or water or bleach). A single roll of FOLKUS wrap can be used for gift wrap, food wrap, table runner, wall paper, drawer liner, backdrop, floral wrap, chilled beverage wrap and is Liquid/Tear/Grease/Bacteria Resistant. Each roll is double sided 
FOLKUS Stone Paper is:
Dimensions: 30 SQFT.
Format: Double-sided Roll
FOLKUS is a Black owned business based in Brooklyn, NY. According to founder Tamecca: "FOLKUS represents the lived experience and contributions of Black folk across an array of domains and aims to expand how we celebrate, cope and connect through Black culture and environmental stewardship."